I said to the girl in the shop, 'I want to buy a hat.' She said, 'Fedora?' I said, 'No, for myself!'

What follows is a list compiled by Tommy for suggested further reading. It includes some lovely books by and about his ancestors, books from his childhood, a few items he picked up in a jumble sale and a couple of overdue library books that have never been returned.

BROWN, ELPHINSTONE. 
Tiny tales for tiny people. Godalming, 1932.
Adventure stories for boys. Portsmouth, 1933.
Tales of action for young men. Aldershot, 1934.
Your twenty-first birthday book of thrills and spills. Leeds, 1935.
Tough tales for the tough. Liverpool, 1936.
Spicy tales for the adult. Soho, 1937.
Tommy collected all these books. His mother never let him get the ones published in 1938 and 1939.

COOPER, AUGUSTUS.
Tips on the manly art of mapfolding. Benares, 1870.
This was written by Tommy's great-grandfather. He was in the Indian Army. He was a great scout and explorer. 
He disappeared in 1872, in Beccles, after going to get a paper. He supposedly reappeared in Doncaster in 
1880 clutching a battered copy of The Times and inquiring, 'Is this the Beccles Road?'

COOPER, ERNEST.
How to build your own flying bomb. Grimsby, 1942
How to convert your Anderson shelter into a nuclear reactor.

New Mexico, 1944.
The fire-watcher's origami manual. Boreham Wood, 1945.
Crocheting your way to victory. Preston, 1945.
Private munitions manufacture for fun and profit. Tufnell Park, 1945.
1001 things to make and do with string now that the war has ended. Potsdam, 1946.
Ernest, a distant cousin many times removed (principally to

places of detention), was the most prolific of the writing Coopers.
He authored many other pamphlets including the justly acclaimed, Can your cat foretell your future love and happiness
in the stars? He retired to his seaside cottage in Rutland to
devote his time to atomic fission.

COOPER, PHILOMENON.
True artes of Magycke extoll'd. Margate, 1666.
Phil wrote the first book in the English language on conjuring. 
He also ghosted stage plays for a theatrical fop called Will Shaxpur.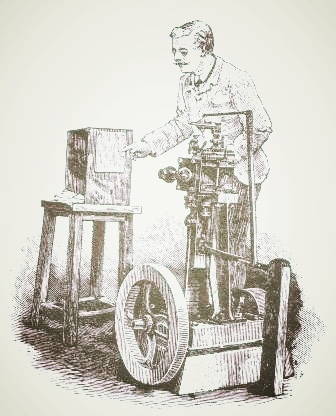 A 'simple' gadget invented by Tommy's grandfather for the vanishing card trick
COOPER, VICTORIA.
What every young magician should know about etiquette. Cheltenham, 1888.
For many years this was the only volume explaining the social graces to the conjuring profession. Throughout the last twenty years of the nineteenth century magicians couldn't do any tricks but they were the best behaved stage performers ever.
​

SIWECKI, JULIAN.
London worthies: From Canute to Cooper. London, 1974. A work on accomplished residents of the famed city.

STENCIL, HERBERT.
The Coopers of Ongar: Records of a Yeoman family. Venice, 1923. Who they were and where they came from. The rise of one of the most notable English families. Written by the author of How to climb your family tree.

YEBBLE, PERCY. 
The senior citizens book of cacti. York, 1973. Written by a man who once bought Tommy a drink in Bristol in 1951.

Tommy Cooper himself wrote.

Three letters to his wife
Several hundred ditto to the taxman
A postcard to his dog
Football coupons and pre-paid business replies
And on the back of his hand:
REMEMBER THE LAUNDRY OR ELSE!!


​Source: Tommy Cooper himself