"When I go I want to be on stage I want the audience laughing and everyone happy."

On 15 April 1984, Tommy Cooper collapsed on the stage of Her Majesty's Theatre and died. At that moment he was relieved of life but invested with immortality. ​
Tommy died, whilst making a rare TV appearance, as one of the acts on Live From Her Majesty's. Cause of death was later given as 'coronary occlusion due to atheroma'.

The show was compered by Liverpool-born comic Jimmy Tarbuck. 

What was astonishing about this sad night was the reaction - and subsequent performance - of Jimmy. 

Tarby had known Tommy for years and it was a relationship based on pure respect. They had first met in 1964 when they shared a dressing room together at the Royal Command Performance.

Jimmy was took under Cooper's wing and a friendship was truly formed. Jimmy was happy to play stooge to Tommy in those last, fateful, seven minutes.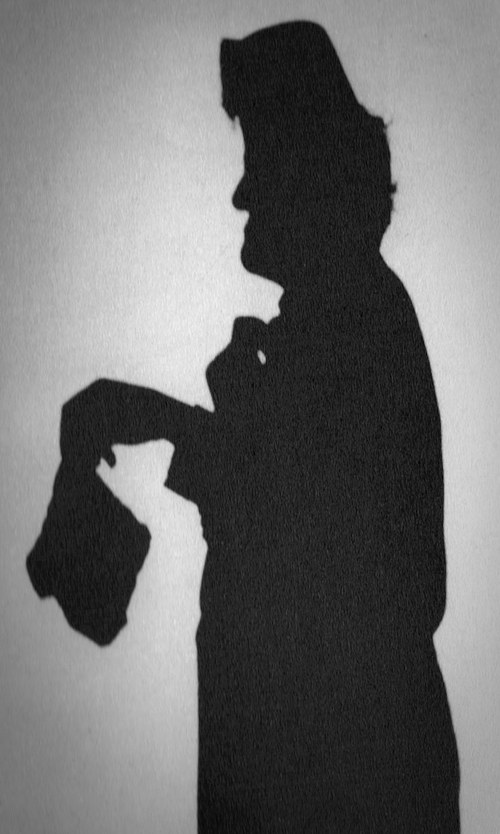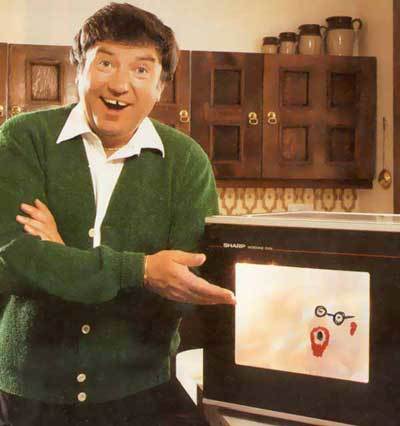 'As usual, he was supposed to make a mess of the last trick,' said Jimmy. 'He was wearing a long cloak and said, "There's no trapdoor here." Then a ladder came through his legs, followed by a milk churn and a long pole. Finally, I was supposed to clamber between his legs and on to the stage.' Jimmy was waiting for his cue when he saw Tommy stand back against the curtain, then he appeared to simply lean back into it,. A blonde assistant went to help him with his magic cloak. 


An eyewitness said, 'She tied it around his neck and walked off, but as she  turned away all of a sudden he crumpled. His head went back and everyone heard a snoring sound. No one knew if it was a joke or not. Everyone was laughing - they thought it was part of the show.'

Ten minutes later at 8.40pm, Tommy Cooper died.

Meanwhile, neither the live theatre audience nor the watching TV audience were told anything and it was on with the show. After the unplanned ad break, it was Jimmy, dumbstruck and numb, who went back on stage and filled in with a two and a half minute stand-up slot. 

Jimmy Tarbuck unbelievably carried on with his routine. He didn't know that Tommy had actually died. Jimmy said, 'I really don't know how I continued. I really can't answer that. I don't really remember what I did. They didn't tell me that he had died, but I could tell it was serious. When I went backstage one of the first aid people was giving him the kiss of life. It was numbing.'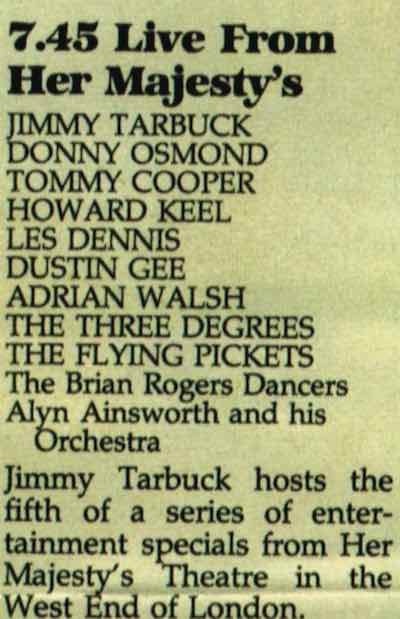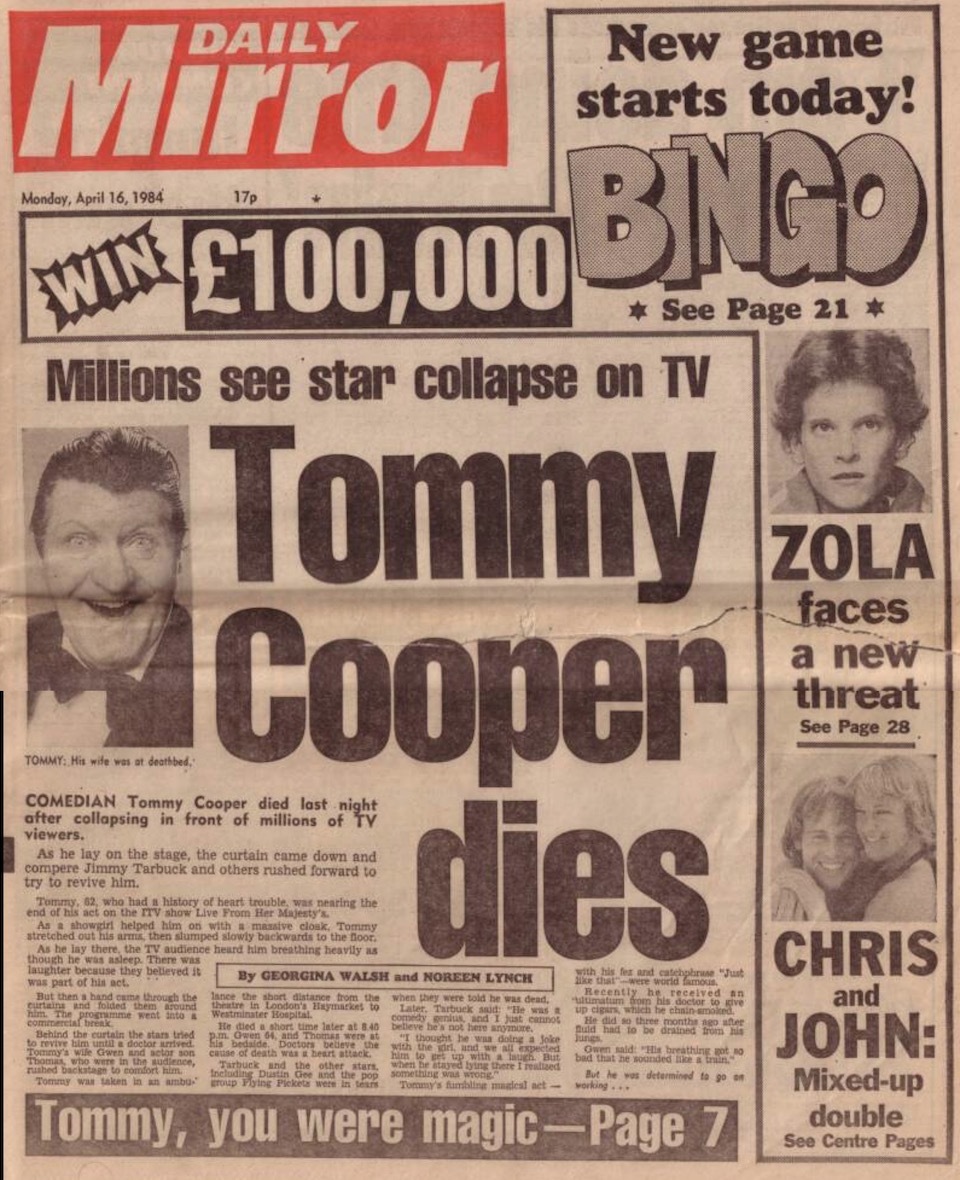 Thanksgiving service in memory.

Mortlake Crematorium, London, site of Tommy's cremation

Lorem ipsum

Lorem ipsum

Lorem ipsum

Lorem ipsum

Lorem ipsum

Lorem ipsum
Tommy loved flowers, his ashes were scattered over some daffodils, in his back garden, by his son Thomas.​

'For most people, life is a bloody grind. They do jobs that they hate - if they are lucky enough to have jobs. So when someone comes along who makes them forget their troubles, it's a relief for them. There is something about me that makes people giggle. I honestly don't know what it is and I don't want to know, because maybe if I became too self-conscious I'd lose the gift. All I ask is that when I pop off, people say, "Tommy Cooper? He was a right scream that bloke."
Thomas Frederick Cooper 1921-1984