On the 31st of March, 1954, Tommy was to set sail, on the Queen Elizabeth, for the first of many trips to the USA.

​

Starring at the Flamingo Hotel, Las Vegas. He was considered, by many judges, as the 'high spot' of the Piccadilly Revels.  Tommy said, "No wonder I'm six feet four, the rest of the performers are three feet six." The hotel was bowled over. 

​
There was Frank Sinatra, Dean Martin, Sammy Davis Junior and the rest and Tommy Cooper, all fez and size 13 boots. He walks on stage with a pair of glasses with antlers stuck on them. 'Uh-huh. Horn-rimmed glasses'. Then the gag about going to see his doctor. 'I had to. He was ill.'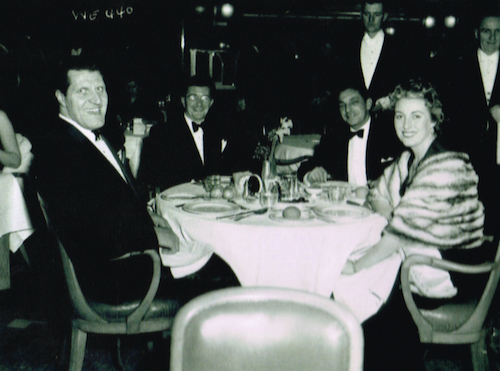 On their way aboard the Queen Elizabeth
​With Miff Ferrie and Vera Lynn and her husband
The show, with Vera Lynn as it's main star, finished after two weeks, but Tommy was not short of people wanting his comedic services.

On his way back to the U.K. he stopped off in New York. Here he was offered a giant offer, of a season-long contract, with the renowned, New York's Radio City Music Hall.  A great offer, but he couldn't accept it. He was booked solidly for the next two years in England and felt he couldn't let down his regular bookings.

​"The minute I got off the plane in New York, 15,000 people started crowding around me. If you don't believe me, ask Marlon Brando. He was standing right next to me."

​
In March 1963, Tommy returned to the United States to do a couple of appearances on the Ed Sullivan Show.  It was interesting to note that Ed, who could make or break acts without a second glance, took a shine to Tom. He regarded Tommy so highly that he even let himself be the fall guy in one of his tricks.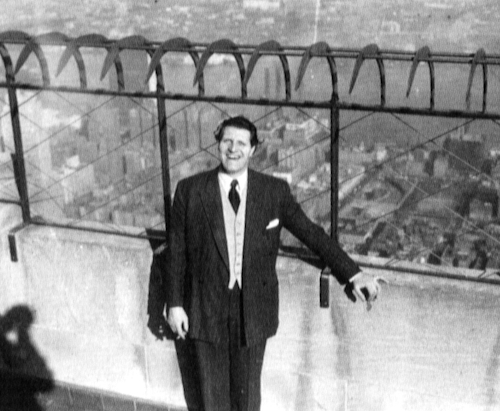 In the Big Apple atop the Empire State Building
On the first show, 24 March, Tommy appeared alongside the superb artistes Barbara Streisand and Chubby Checker. 

​Between 1963 and 1967 Tommy made five recordings for America's multi-popular Ed Sullivan Show.

​Miff Ferrie received a letter about the Ed Sullivan show appearance.

Ed joins in as a fall guy!

With Roy Orbison!

Here he is the funniest man ever to appear on this stage!
On the second show, 31 March, Ed Sullivan introduced him as 'the funniest man ever to appear on this stage'.  Tommy wowed the audience with a funny hats routine.​​​

He was asked back on to the show again, three times more. Appearing with, amongst others, Ethel Merman and the pop group the Lovin' Spoonful.